News
| November 24, 2009
The Big Thaw? NASA Satellites Detect Unexpected Ice Loss in East Antarctica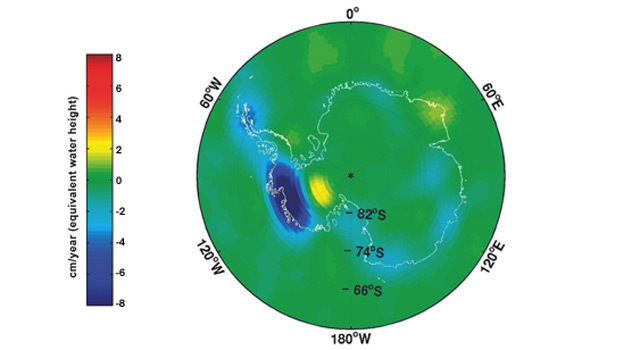 Using gravity measurement data from the NASA/German Aerospace Center's Gravity Recovery and Climate Experiment (Grace) mission, a team of scientists from the University of Texas at Austin has found that the East Antarctic ice sheet-home to about 90 percent of Earth's solid fresh water and previously considered stable-may have begun to lose ice.
The team used Grace data to estimate Antarctica's ice mass between 2002 and 2009. Their results, published Nov. 22 in the journal Nature Geoscience, found that the East Antarctic ice sheet is losing mass, mostly in coastal regions, at an estimated rate of 57 gigatonnes a year. A gigatonne is one billion metric tons, or more than 2.2 trillion pounds. The ice loss there may have begun as early as 2006. The study also confirmed previous results showing that West Antarctica is losing about 132 gigatonnes of ice per year.
"While we are seeing a trend of accelerating ice loss in Antarctica, we had considered East Antarctica to be inviolate," said lead author and Senior Research Scientist Jianli Chen of the university's Center for Space Research. "But if it is losing mass, as our data indicate, it may be an indication the state of East Antarctica has changed. Since it's the biggest ice sheet on Earth, ice loss there can have a large impact on global sea level rise in the future."
NASA's Jet Propulsion Laboratory, Pasadena, Calif., developed the twin Grace satellites. The University of Texas Center for Space Research in Austin has overall Grace mission responsibility. Grace was launched in 2002.
Grace estimate of changes in Antarctica's ice mass, measured in centimeters of equivalent water height change per year. The study confirmed previous estimates of ice mass loss in West Antarctica, but also found ice mass loss in East Antarctica, primarily in coastal regions (depicted in light blue).
Credit: University of Texas at Austin Center for Space Research
Related stories:
--http://www.greenmuze.com/climate/heat/1951-east-antarctica-ice-loss.html
--http://www.chinadaily.com.cn/cndy/2009-12/02/content_9097653.htm
More information on Grace is online at http://www.csr.utexas.edu/grace/ and http://grace.jpl.nasa.gov/ .